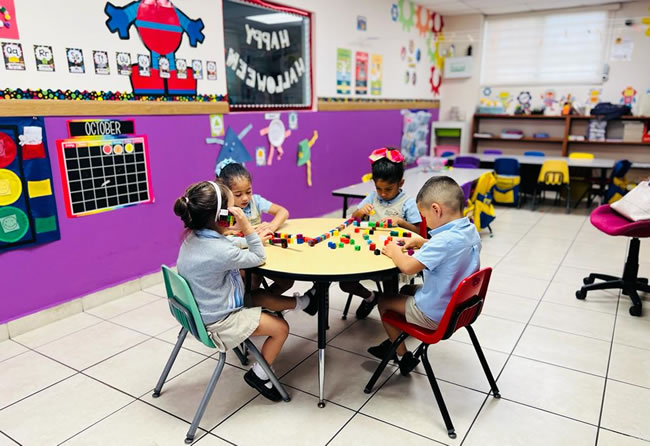 About Nana's Learning Center & Academy
We are so pleased that you are taking the time to ensure the best care for your child. Selecting a Daycare or Preschool may prove to be one of the hardest tasks you may find as a parent.
At NLCA we pride ourselves in providing your child with a safe, family oriented, learning environment. We are sure you will find all the information you need here but please, come visit us in person. Our doors are always open.
Teachers
Our teachers and staff are certified according to the rules and regulations of the Consejo General de Education. Each is also a graduate of the First Aid and CPR course from the Red Cross. Mostly though, we are here because we love children and enjoy watching them grow and learn.
Security
We realize we are taking care of your most precious treasures. At the time of enrollment you will provide a list of those who are allowed to pick up your child. ID will always be requested at the gate. Also, the signature, date and time will be recorded upon your child's pick up. Our electronic gates are closed at all times.
Nutrition
Nana's Learning Center provides Breakfast and Lunch everyday (mid-afternoon snack will be brought from home). Our menu is provided by a Certified Nutritionist and approved by the Consejo General de Educacion.
Special Activities
We love to spend time with our kids and their families. Here are some of the special activities you will enjoy at NLCA:
Field Day: Once a year our little athletes show off in a fun-filled day at the park; our yearly Egg Hunt gives closure to this fantastic day.
Graduation: Really a small family gathering to award our kids for their superb effort during the school year.
Field Trips: Throughout the year we visit the Museo Del Nino, Parque de las Ciencias, Villa Campestre and many other fun places in certified, insured school buses so we can get out of our daily routine and have fun while learning.
Pool Party: When it's hot…we hit the pool! We have small pools that we set up in our patio during the summer so we can cool off and get wild. Hamburgers are the menu for the day!
Christmas Party: Our children show off their talent during our annual Christmas Show with songs, dances and poems. We close our celebration with the visit of Santa Claus bearing gifts for all!
Parties: We love to sing and dance. Monthly celebrations are common at NLC. We celebrate Valentine's, birthdays, Easter, Thanksgiving, etc.