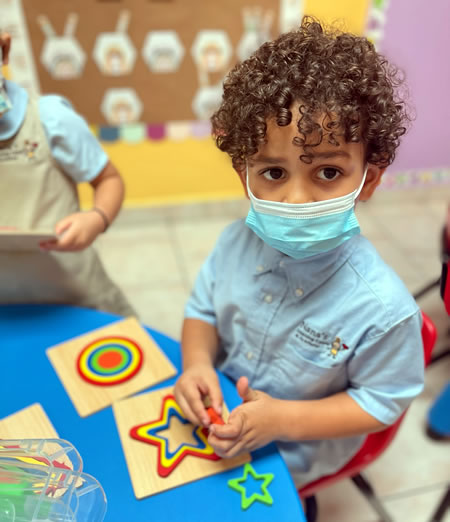 Curriculum
Romper Room (1 ½ to 2 yrs)
At this early age children are meant to be learning how to interact with other children and the world around them. We provide a loving and patient environment so they may blossom while making friends, learning to solve situations as verbally as possible. The curriculum also includes skills development such as learning colors and numbers, songs and stories, tracing and coloring with crayons and watercolors (we love the mess!).
Pre-Pre (3 year olds) - Pre-kinder
Our 3 & 4 year olds have FUN while learning. Our teaching methods include learning-while playing-techniques that make learning fun. In our science section we will watch plants grow and learn about the weather. Social Studies will teach us to be responsible, respectful and our value in the world. We will also learn simple math and writing skills development. English will be spoken regularly so our kids become familiar with the language.
Kindergarten & First grade
Our 5 & 6 year olds have an intense curriculum as required by the Consejo General de Educacion, but we don't stop there. Our kids STEP AWAY FROM THE TABLE! Projects, outdoor classes, mid-class workouts, dances and yoga wake our little minds up and make a fun learning day.
Fully Accredited Kindergarten & First Grade
We realize we are taking care of your most precious treasures. At the time of enrollment you will provide a list of those who are allowed to pick up your child. ID will always be requested at the gate. Also, the signature, date and time will be recorded upon your child's pick up. Our electronic gates are closed at all times.
Language skills
At entry to first grade, students will need to have had a broad array of language experiences. Oral language, vocabulary, and other language concepts are crucial foundations for success in reading, especially reading comprehension. In particular, children need to be able to use language to describe their experiences, to predict what will happen in the future, and to talk about events that happened in the past.
Early childhood programs can develop children's language by giving them many opportunities to discuss their experiences, make predictions, and discuss past events in small groups. Many children also benefit from instruction in key language concepts, such as colors and shapes, prepositions (e.g., under/over, before/after), sequence (e.g., small to large), and classification (e.g., animals, containers, and plants).
Alphabet and Letter Sounds
One of the best foundations for early reading success is familiarity with the letters of the alphabet. Children can learn alphabet songs, match pictures or objects with initial letters, play games with letters and sounds, and so on. They can learn to recognize and print their names, the names of their classmates, and names of familiar objects in the classroom or home. As they gain command of letters and sounds, kindergartners can begin to write simple stories. By the end of kindergarten, children should be able to recognize, name, and print letters, and know the sounds they represent.
By the end of the Kindergarten year your child should:
Work independently
Listen to longer sets of directions
Complete homework on their own
Relate to and repeat experiences in greater detai
Problem-solve disagreements
Relate to and repeat experiences in greater detail
Distinguish left from right
Be able to plan ahead
Write and spell untaught words
Read and write high frequency words
Write complete sentences with correct capitalization and punctuation
Read aloud first grade books with accuracy and understanding
Tell time to the hour
Quickly answer addition problems with sums up to 20
Quickly answer subtraction problems with numbers 0 to 20